What is the 'PPP' (Programme & Project Partnership)?
X4 Tier 2 Suppliers have been chosen by Sellafield to establish a 20-year partnership to improve and transform project delivery at Sellafield.
The program will be known as the PPP (Programme and Project Partnership)
The program will help SL emerge from a Nuclear site to a world-renowned Nuclear decommissioning & environmental remediation facility.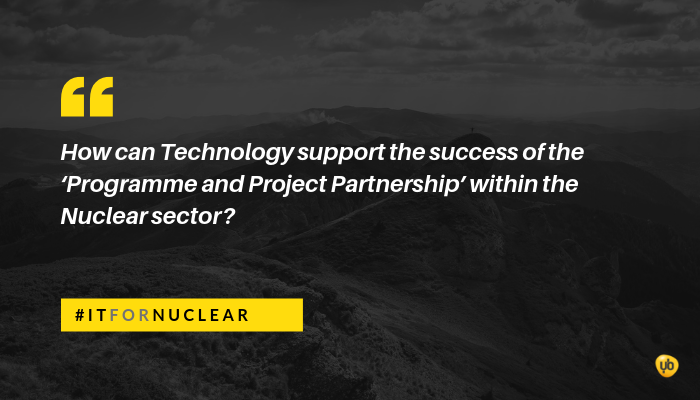 Who's involved with PPP?
The x4 Partners involved within Sellafield's Programme and Project Partnership are:
Kellogg Brown and Root Ltd - Integration partner


Wood Nuclear - Design and Engineering partner


Morgan Sindall Construction and Infrastructure Ltd - Civils Construction Management partner


Doosan Babcock Ltd - Process Construction Management partner
Paul Foster, CEO for Sellafield Ltd, said:
"The award of the PPP contracts marks the start of a new, and very different, journey for Sellafield Ltd and our supply chain partners.
Our number one priority is making Sellafield safer, sooner, and a key part of this is establishing closer relationships with other expert organisations.
Working side by side with our 4 long-term partners, as one team, will help transform the way we deliver projects safely, quickly, and cost effectively.
The new approach also provides huge opportunities for our communities, through 20 years of sustainable employment in the design and construction supply chain, enhancing the skills of the workforce, while helping realise the economic ambitions of our community, to achieve its unlimited potential.
I'd like to congratulate Kellogg Brown and Root Ltd, Wood Nuclear Limited, Morgan Sindall Construction and Infrastructure Ltd and Doosan Babcock Ltd.
We look forward to working in partnership to progress the safe, secure completion of our clean-up mission."
What are the challenges the partners will face?
With new opportunities, especially large programs like the PPP comes challenges.
Joint ventures come with many challenges and hurdles, and the PPP partnership is no different.
JV challenges come in all shapes and sizes but having worked with many Joint ventures the below are very common and expected to arise within the PPP:
Multiple partner IT platforms with multiple IT departments – With several partners come several IT platforms, IT strategy and IT teams. Often Joint Ventures must make do with IT available from a partner that isn't correctly aligned to them.


Collaboration – Having different teams, data and systems from different partners can make collaboration a challenge.


Communication – Communication between partners, staff, the supply chain and governing bodies is usually inefficient and frustrating.


Security – Security often is a mix from all partners and the true line of responsibility isn't always clear.


Change – Joint Venture's in their nature are prone to change – Either deploying teams or scaling back.


Speed, or lack of – Having to involve so many partners and decision makers can slow progress and innovation.
With the common challenges highlighted, comes a list of problems. A lot of joint ventures come across 1 or more of the challenges discussed. Due to the size of the PPP project these challenges could be magnified.
The challenges can compound and cause in-efficiencies across user experience, data access, communication and productivity.
Speed to deploy new teams or sites can be slow, and the constant change without the correct IT in place can stunt growth and innovation
How can Partners, the supply chain and stakeholders ensure success of PPP?
The partners and the supply chain for the Programme and Projects partnership need to come together and have a clear understanding of the aligned objectives and challenges ahead.
The below technology areas should be considered to ensure success of the PPP from ALL parties.
Leverage Technology – Technology when it comes to planning and running a JV should be at the top of your agenda. It will allow for efficiencies across all areas of your business.


Dedicated IT for the JV – Having a dedicated IT road map, Infrastructure and environment means it can be designed and built with the JV's objectives in mind.


Cloud – Leveraging the cloud will allow JV's to take advantage of secure 'elastic' IT, which means they can rapidly scale up and down teams where needed.


Work with an IT Partner – We have seen great success when JV's outsource their IT or align their IT department with an external IT service provider. This means the JV's requirements will be at the top of the priority list, which isn't always the case when the IT is controlled by just one of the partners.


Communication Technology – Communication is king! You need to ensure that ALL partners have an easy, seamless method to communicate. For example, Microsoft TEAMS, Slack and/or a hosted telecoms solution.
When the correct IT and Technology is aligned with the Joint Ventures objectives (Not just partner objectives) then this can have a massive positive impact on the success of the JV and client results.
Are you involved with the Programme & Project Partnership?
Want to discuss the Programme & Project partnership, the challenges or IT/Tech around the Nuclear sector please get in touch with our commercial director Mike Douglass (michael.douglass@yellowbus.uk) or tweet @yellowbusteam
Want to read more about the Programme & Project Partnership?
For more information about the PPP and parties involved please visit:
https://www.gov.uk/government/news/sellafield-ltd-awards-20-year-project-partnership
---