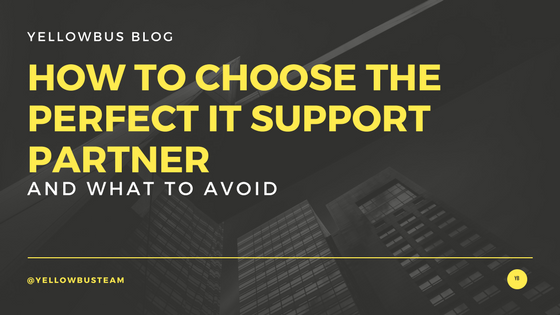 Ok, so you work for yourself, run/own a business or are an entrepreneur with multiple companies. You are busy working on your business, looking after clients and partners. Your time is important & limited, so why spend it on anything other than your business?
So many business owners attempt to keep technology & IT in house, either themselves or assigning to a member of staff that wears the 'IT Hat', but why? Worse than that, they don't value technology, they don't invest in technology - this is a certain path to failure for businesses of the future.
If you're not a doctor, you wouldn't diagnose health issues, If you're not an architect, you wouldn't design buildings for someone, and if you're not a pilot, you wouldn't fly commercial jets – so why attempt to design, implement & support technology for your business? This may have been acceptable 10 years ago, but today technology is one of the most important, if not THE most important factor to allow most businesses of today to operate, grow and stay ahead of the competition.
So what do I mean by 'Technology Partner'?
Any company or offering of Technology/IT that you can outsource your IT & Technology needs and support too. Examples of a technology partner but not limited to:
- IT Support Provider
- Managed Service Provider (MSP)
- Telecoms Provider
- Software Development House
- Web Design Agency or Designer
- Value Added IT Reseller (VARs)
- Internet Service Provider (ISP)
- IT Consultancy or Consultant
- IT Distributor
- Cyber Security Partner
Should you outsource the IT / Technology requirement & support,
or should you hire in-house?
I often get asked 'why should I use a Managed IT support provider, Software House or IT partner when I can just hire internally & build an IT Department?' – The answer does vary depending on the business and circumstances but, I would say 99% of businesses will benefit from working with a technology partner, even if they have an internal IT person or department. As mentioned earlier, your business & staff are there to add value to your clients, not spend time researching, learning, implementing and supporting the latest tech. Technology is moving too fast for you to give 100% to your business, and to utilise technology adequately.
Technology support cover - If you're the 'go to' guy for IT & Technology Support, or you're reliant on a single in-house member of staff, what happens when you/them are not available? Out of the office, off sick or on holiday – Are you protected? I think not, and you're probably taking a laptop away with you. With a technology partner you can sleep at night knowing they are monitoring & supporting your business, even when you sleep.


HR & Recruitment headaches – As your business grows, so will your technology and the need to ensure it is kept ahead of industry standards. With this, comes the need for more technical knowhow and support. The first thought is to hire technical staff in-house, but as you grow, so will the need for a larger technical department. With that comes the need for Technical Manager(s) and Director(s). Before you know it, you have a large HR & recruitment headache that is only going to grow. Compare that to outsourcing to a Technical partner – HR & Recruitment costs and pain disappears.


Training & Accreditations – To stay at the top of your game in the fast moving world of business & technology, continual investment is needed to keep technical qualifications, training & accreditations relevant. Why take on this burden when any good technology partner will take care of this?


Skillset pool – If you are the 'in-house tech' or you have 1 or 2 internal IT people, that's it – that is your 'technical muscle' – Now compare that to an IT / Technology company that has larger teams, invests in training and the latest tech, has years more experience – Ask yourself, who is going to do the better job?


More Power! – Most Technology companies have leverage over partners, vendors & suppliers – This in turn means better pricing and escalation of support for you and your business.


'Better business' – If your technology is implemented and managed by a specialist, this means you're freed up to ensure you're doing 'better business' and offering a better service to your clients.
What to look for in a Technology Partner
As the speed of business & technology increases, and as knowledge spreads – It is becoming easier every day for the 'average Joe' to setup an online business offering a technology service & support. This means people will be offering services that are 'below standard' and driving industries into price wars. The companies that don't have the edge, niche or top offering will then start to compete on price, causing a saturated market.
The technology companies to watch are the ones that are not affected by the above competition hustle, the ones that don't drop prices and the ones that continue to do it 'their way'. To find a technology partner like this, use the below pointers and cover these when you have your initial meetings.
- Are they pro-active or re-active? If they are a 'break-fix' re-active technology company, their future is bleak. They will not be able to offer & support the latest technology, and your business is at risk. With a pro-active managed approach, you will experience the full advantage of a managed service which will result in better service delivery, improved up-time and more efficient processes.
- Cyber Security, Data Management & Data Loss – What are their processes, procedures & thoughts on Cyber Security? How do they protect your data?
- Vendor Partners & Vendor Management – Who are their partners & what is their relationship / process for escalation to vendors? Do they keep 'good company' in the industry?
- Do they 'add value' to your business?
What are they going to offer you and your business over and above the norm? How are they going to add value to your business? Delve into this subject and probe for an answer.
- Communication - As the saying goes, 'communication is key' – but in this relationship, 'communication is KING!' – Without constant communication, updates, calls and meetings the relationship will breakdown. If the direction of the business shifts, the technology partner needs to know to ensure technology is used to assist the transition. With a breakdown in communication, this can be detrimental to the business. Find out what the technology partner's view is on communication, and how they plan to keep you in the loop.
- Company Background – Don't just trust their website. Ask for a face to face, or at least a call with a couple of their current clients to discuss their relationship and performance.
- Financials / History – Ensure you use a third party tool like http://www.creditsafe.com/ to check the current and past financial history of the technology company and its directors.
- Pricing – If you're looking for the cheapest, you're NOT going to get the best service. See if they will compete on price – If they drastically drop pricing, this is a red flag that their model and future is compromised.
- Accreditations – Research what the industry accreditations are for that specific technology, and check that theirs is relevant. Do they have quality standards such as ISO 9001? Are they a member of any governing bodies?
- Do they talk in technical jargon or real business terms?
As discussed, your time is better spent working on your business. The last thing you want is to spend time translating technical jargon. Ensure the technical partner talks to you in plain English and regarding business advantages, not tech specs and tech performance reports.
- Technology Road Map –
Implementing a new technology solution is easy, the hard bit is supporting and keeping it relevant. Ensure your technology partner works with you to create a 3-5 year technology road map that aligns with your business goals.
"It takes 20 years to build a reputation, and 5 minutes to ruin it. If you think about that, you'll do things differently." - Warren Buffett.
So remember that when looking for your next technology partner - You need to ensure you're 100% happy with the technology partner as they will have an impact on your reputation – Indirectly via service delivery, up-time, data management & loss, Cyber security & legal implications linked to tech.
---