Want to improve your Connectivity, WAN, Network and site to site links to improve business performance?
'SD-WAN' is the answer…
What is an SD-WAN?
SD-WAN is a technology that allows companies to simplify management and improve performance of their wide area's networks & connectivity. A key driver for SD-WAN is its ability to allow companies to leverage various internet connection types, replacing all or part of existing expensive WAN technologies all whilst improving performance and management.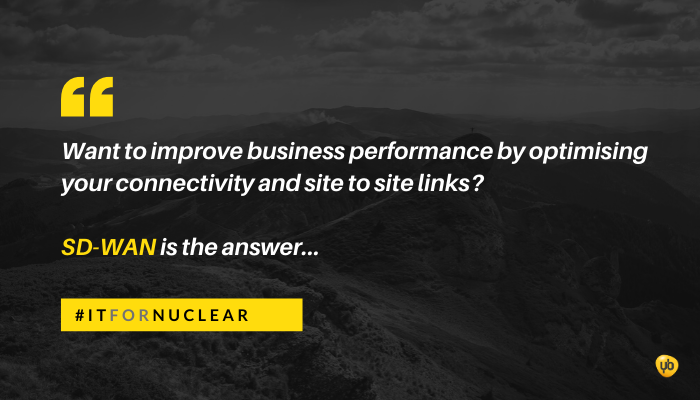 When should you look to utilise an SD-WAN?
If your business currently operates over several locations or hub sites, leverages remote working and/or wants to improve network & application delivery performance, then SD-WAN should be at the top of your wish list.
What does SD-WAN stand for?
SD-WAN stands for software-defined (SD) wide area network (WAN).
What are the benefits of an SD WAN over an MPLS or VPN alone?
Simplified management of WAN (wide area network) / Connectivity
Centralised control and management of your network, WAN and application delivery
Better visibility on network and site to site performance
Intelligently steer or direct traffic across the WAN
Cost effective compared to full MPLS solutions
Gives the ability to use a mix of ISP's and internet connection types
Increased application performance
Improved security when implemented with encryption technology
Gives more control and reporting to your IT team and/or Managed IT partner

The benefits of SD-WAN within sectors like Nuclear, Engineering and Energy…
In fast paced industries like the nuclear sector, SD-WAN can support business growth and change whilst giving greater control and security demanded in these sectors. Nuclear organisation's with several sites and remote workers can leverage the benefits SD-WAN has to give, whilst the IT teams have improved visibility of network performance ensuring users can work at their best. IT teams can also ensure applications are delivered and prioritised to meet business demands and objectives.
"
Connectivity and the network are now the 'lifeline' in modern business. Without it, businesses struggle to communicate & connect externally and internally.

For any business that relies on their connection and access to other sites they will know the pain caused when it's not performing as it should, or worse still goes offline completely. Slow performance or downtime of critical infrastructure causes low productivity, reduced performance and can have huge costs.

When working in sectors like Nuclear & engineering, the stakes are higher so ensuring optimal performance for systems and users is key. SD-WAN allows businesses to closely monitor the performance of systems and applications important to them, prioritise and optimise with much greater control. SD-WAN should be next on your roadmap…
"
Mike Douglass – Director | Yellowbus Solutions Ltd
Let's talk…
If you would like to discuss this blog, SD-WAN or how you use IT within Nuclear please contact us or contact Mike Douglass at michael.douglass@yellowbus.uk
---