"When ransomware bypasses your security and starts encrypting your files and valuable data – what do you do?"

At Yellowbus, That's the question we have been asking businesses and supporting them with ensuring they have the answer. Perimeter based security (Firewalls / Antivirus etc..) is too often circumvented, leaving nothing to stop a ransomware outbreak. Businesses are falling victim to ransomware, despite having best of breed perimeter security in place. With the increase of remote working and dispersed teams, the risks of ransomware is rapidly increasing.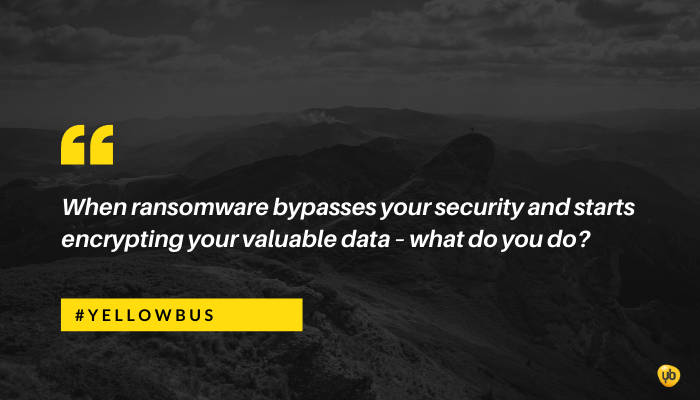 Mike Douglass, Yellowbus Commercial Director comments –
"What do you do when your attacked with Ransomware? That's what all businesses should be asking themselves more than ever right now. Businesses need a solution that doesn't care about how or what variant of ransomware is attacking your organisation – but a solution with the sole purpose to isolate the infected device and stop ransomware from encrypting your most valuable data and spreading to disrupt the whole organisation. Specialist sectors like nuclear, engineering, science, tech and aerospace are seeing an increase in phishing and ransomware attacks and with teams and data in remote working locations, its even more important to have a plan and the correct tools in place."

Yellowbus have partnered with Bullwall, to offer 'RansomCare' (RC) – innovative Last Line of Defence against ransomware outbreaks. RC stops any ransomware outbreak: it does not matter which user, or which device triggered the outbreak. Nor does it matter if it is a known or unknown ransomware outbreak.

If a ransomware circumvents your current defences and begins to encrypt your files, how would you answer the following questions?

• How do you see which files are encrypted and where they reside?
• How do you identify which user and which device initiated the attack?
• How do you stop the ongoing encryption immediately before significant damage occurs
• How long will it take to restore files at what cost?
• Can you accurately report GDPR if thousands of files have been lost to illegitimate encryption?

Yellowbus RansomCare provides you with the ammunition to not only to stop the outbreak immediately but the visibility to answer these above questions.

Yellowbus would like to offer you a 45 minute live demonstration or a FREE Ransomware Assessment, to test the resilience of your ransomware defences. During a consultation, Yellowbus will use its Ransomware Simulator and RansomCare solution to:

• Test if your existing security defences can stop a ransomware outbreak
• Test BullWall's RC in your infrastructure
• Test if RC stops a ransomware outbreak on one of your endpoints
• Demonstrate the Bullwall RC tool in action

To request more information, arrange a free assessment or to arrange a demo please click here - https://www.yellowbus.uk/bullwall






---